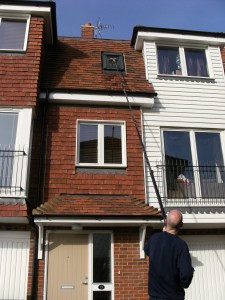 At Calendar Cleaning, we are removing the danger of working at height for our staff and customers…
A large number of cleaners are injured or killed from falls off ladders each year. Did you know that if this happens at your property, YOU could be liable? This comes as a shock to many homeowners across East Sussex and Kent.
To reduce this risk, we are now using ladderless techniques to get your windows sparkling clean at domestic and commercial properties. Instead of ladders, we now use Telescopic Poles to reach high windows. Advantages of doing this include:
Reducing your legal liabilities
It's faster
Increases your privacy as we are working from the ground and cannot see into bedroom windows
Environmentally friendly – no nasty chemicals
The Telescopic Poles also bring cleaning benefits to your windows because they use pure water rather than tap water…
Pure water is filtered by a de-ionising and de-mineralisation process, which clears to a crystal shine, whereas tap water contains minerals such as magnesium and calcium, which leaves a white residue on windows
Due to the aggressive strength of pure water, no other detergents need to be used on your windows, therefore saving you money and time (plus it's better for the environment!)
Water doesn't actually like to be pure, therefore it strives to return to being impure. During this process it absorbs dirt particles from the windows, aiding in the cleaning process.
As you now know, the benefits of this new technique are endless. At Calendar Cleaning, we always put our customers first. If you have any other questions, or require our services please contact us today.
We work across East Sussex and Kent, including Rye, Hastings, Bexhill, Northiam, Tenterden, Hawkhurst, Tunbridge Wells and Ashford.